App Academy is a leading coding bootcamp shaping the future of tech education. Discover its foundational approach to transforming novices into professional software engineers.
Background Story
App Academy is a coding school that was founded in 2012 by Kush Patel and Edward Ruggeri in San Francisco, California. The school offers online and on-campus software engineering programs with no tuition cost until students are hired.
The founders' goal was to create a program that would help students transition into software engineering careers by providing them with the necessary skills and resources. Since its inception, App Academy has graduated over 5,000 alumni and has become one of the most respected code schools in the industry.
Target Customers
App Academy's target customers are individuals who are interested in pursuing a career in software engineering.
The school offers programs for both beginners and experienced programmers, making it accessible to a wide range of individuals.
App Academy's programs are designed to provide students with the skills and knowledge they need to succeed in the tech industry.
Featured Customers
App Academy has a diverse group of featured customers, including individuals from various backgrounds and industries. Some of the school's notable alumni include:
Alexey Komissarouk, who went on to work at Google
Kaitlyn Yang, who founded her own VR production company.
App Academy has also worked with companies such as Airbnb, Dropbox, and LinkedIn to provide training for their employees.
Funding, Capital Raised, Estimated Revenue
App Academy has raised over $42.2 million in funding to date. The school's funding has come from a variety of sources, including venture capital firms such as NEA and Khosla Ventures. App Academy's estimated revenue is not publicly available, but the school has been profitable since its inception.
Products and Services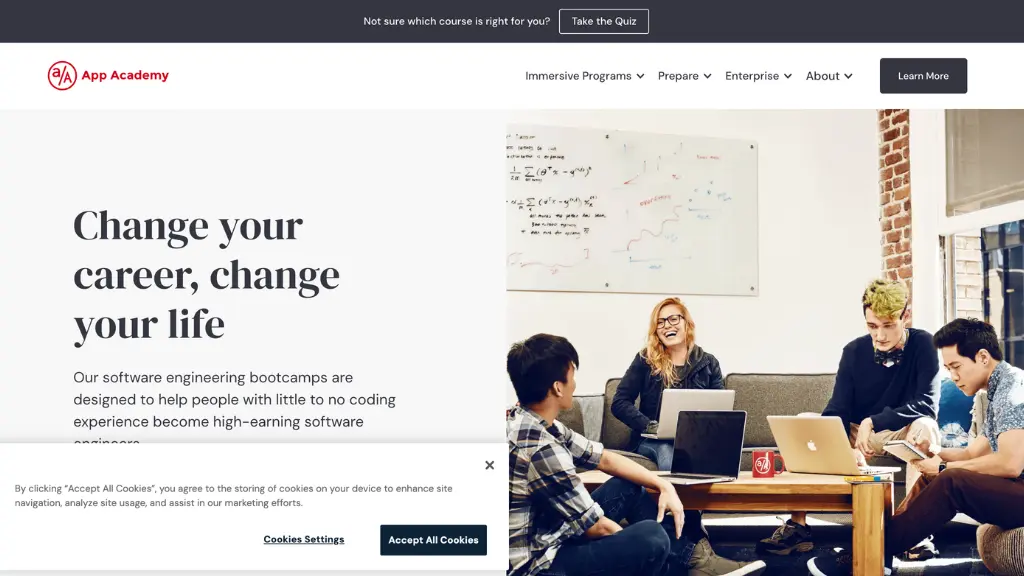 App Academy offers a range of products and services to help students succeed in their software engineering careers. The school's flagship program is its 24-week software engineering course, which is available both online and on-campus.
The course covers a range of topics, including Ruby on Rails, JavaScript, ReactJS, and SQL. App Academy also offers a range of other programs, including a bootcamp prep course, a coding fundamentals course, and a job search curriculum.
What is Flatiron School? Scrutinizing Its Courses, Competitors, Pros, Cons and Broader
Course by App Academy
Campus-based Programs:
New York: Full-Time Software Engineering Track
San Francisco: Full-Time Software Engineering Program
Online-based Programs:
Online Software Engineering Program (Full Time)
Online Software Engineering Program (Part Time)
Some of the featured courses are:
16-Week Software Engineering Program
24-Week Online Software Engineering Program (Full Time)
48-week Online Software Engineering Program (Part Time)
4-week Bootcamp Prep Program
Self-Paced Bootcamp Prep Online
Competitors
App Academy has several competitors in the coding bootcamp industry. Some of the school's top competitors include:
Pros and Cons of App Academy
Pros
In-person Experience: They offer an invaluable in-person experience which is beneficial for students who prefer hands-on, face-to-face instruction.
Rigorous Coursework: While challenging, the rigorous coursework prepares students for the demands of a software engineering job.
Comprehensive Support: Students get support not just during the course but also during their job search.
Experienced Instructors: The instructors have real industry experience, ensuring quality and relevant instruction.
Project Opportunities: They offer opportunities to build projects which are crucial for showcasing one's skills to potential employers.
Self-Sufficient Learning: Despite lacking certain languages like Python, App Academy teaches students how to pick up and implement new languages and frameworks independently.
Effective Job Search Support: Many students secured jobs within a few months post-graduation due to their extensive post-graduate support.
Money-Back Guarantee: If a student doesn't get a job within a year, they offer a refund.
Pair Programming: Daily pair programming or "pairboarding" opportunities foster great coding skills and collaboration.
Vast Network: After graduation, students have access to a large network of software engineers.
Inclusive Culture: App Academy promotes an environment conducive to learning, growth, and inclusivity.
Cons
Intense Commitment Required: The program demands many hours of commitment, both during and after classes, which may not be feasible for everyone.
Prior Preparation: Students are expected to prepare material ahead of every class to keep up.
Challenging Assessments: The course contains challenging assessments that might be daunting to some students.
Potential Curriculum Gaps: Some parts of the course might feel rushed or not as extensively covered as others.
Delayed Job Offers: For some, the job market post-graduation might be slow, leading to delays in job offers.