In the ever-evolving landscape of e-learning, DataCamp carves its niche with specialized courses. Join us as we dissect its strengths, weaknesses, and everything in between.
Background Story
DataCamp was founded in 2013 by Jonathan Cornelissen, Martijn Theuwissen, and Dieter De Mesmaeker. The founders were all Ph.D. students in statistics at the University of Leuven in Belgium. They noticed that there was a gap in the market for an online learning platform that offered comprehensive courses in data science and machine learning. They decided to create DataCamp to fill this gap.
The company started as a small online learning platform with just a few courses. However, it quickly gained popularity among data enthusiasts and professionals. Today, DataCamp has over 7 million learners worldwide and offers more than 350 courses in various technologies, including Python, R, SQL, Tableau, Power BI, Oracle SQL, Scala, Excel, and spreadsheets.
Target Customers
DataCamp's target customers are individuals and organizations looking to upskill in data-related fields. The platform offers courses for learners of all levels, from beginners to advanced learners. DataCamp's courses are designed to be hands-on and interactive, allowing learners to practice what they learn in real-world scenarios.
Featured Customers
DataCamp has a wide range of featured customers, including individuals, small businesses, and large organizations. Some of the most notable featured customers include Google, Uber, Deloitte, PayPal, eBay, and Microsoft. These companies have trained their teams through the resources on DataCamp, which has helped them to upskill and stay competitive in their respective industries.
Funding, Capital Raised, Estimated Revenue
DataCamp has raised a total of $33.9 million in funding to date. The company's latest funding round was a Series B for $25 million in November 2018. DataCamp's estimated revenue is $28.2K per employee, and its annual revenue was $12.5 million in 2022.
What is Killi? Uses, Features, Advantages, and More
Products and Services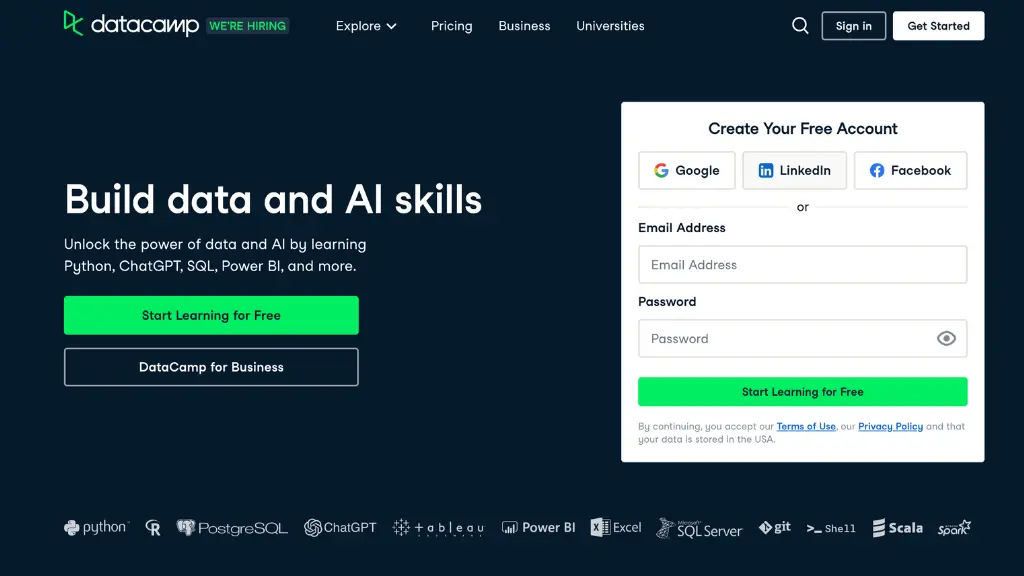 Online Learning Courses:
Technologies Covered: Python, R, SQL, Tableau, Power BI, Oracle SQL, Scala, Excel, and spreadsheets.
Interactive Learning Approach:
Hands-on Courses: Provides an interactive experience, allowing learners to practice real-world scenarios.
Certification:
Earn Certifications: Enables learners to demonstrate their data skills, especially as they progress to more advanced topics and responsibilities.
DataCamp for Businesses:
DataCamp Business: Tailored for organizations aiming to upskill their teams in data domains.
Custom Tracks: Admins can steer their team's learning to align with business goals. They can also allocate specific content to distinct teams.
Structured Learning Ecosystem: Allows employees to delve into courses, utilize learning resources, and connect with other learners and experts within the enterprise.
Customer Success Manager: Dedicated support to offer guidance on adoption of best practices and ensure progress towards data proficiency.
Competitors
DataCamp's competitors include other online learning platforms that offer similar courses and resources, such as:
Pros and Cons of DataCamp
Pros
Broad Range of Topics: DataCamp offers courses on a variety of tools and topics, including Python, R, Tableau, Power BI, and others.
Structured Learning Paths: The platform provides well-structured courses and tracks, helping users progress from beginners to advanced levels in roles such as Data Analyst, Scientist, or Engineer.
Balanced Approach: The courses blend theory and practical applications in statistics, machine learning, artificial intelligence, and other areas.
Certifications: Users can earn certifications from DataCamp and also prepare for other external certifications.
Hands-On Learning: DataCamp emphasizes hands-on learning with in-browser training sessions and short videos, making it more effective than platforms that rely solely on long videos.
Gamification: The leaderboard and point system provide a "friendly competition" atmosphere, motivating users to engage more with the content.
Integrated Workspace: Many reviewers appreciate the integrated sandbox, allowing users to practice without needing external tools.
Career and Skill Tracks: These curated paths ensure that learners achieve a comprehensive understanding of a topic, boosting their confidence in applying their skills in real-world scenarios.
Flexibility: The self-paced nature of the courses helps users balance their learning with other commitments.
Interactive Challenges and Projects: These help reinforce learning and apply concepts in a practical context.
Authentic Instructors: Users feel that the instructors are genuine, knowledgeable, and invested in their learning journey.
Cons
Lack of Social Features: Some users expressed a desire for DataCamp to have more of a social networking feature for data science professionals, though DataCamp does offer a Slack community for subscribers.
Workspace Stability: A few users experienced some instability in the integrated workspace.
Limited Project Sharing: While DataCamp offers projects, users cannot directly share them from the platform. They need to download and then share them externally.
Outdated Python Version: The embedded IPython, as of some reviews, was using Python 3.5, which doesn't support newer features like f-strings.
Redundancy for Experienced Users: Some users felt that the beginner content can be repetitive if they already have prior knowledge of the topic.
Requests for More Challenging Content: A few users wished for more advanced challenges after mastering the basics.
Limited Admin Insights: Admins would like more granular data on learner progress and enrollments.
Missing Content: A suggestion was made for DataCamp to include courses on additional skills, such as language learning.