NVIDIA, a global technology giant, is renowned for its groundbreaking advancements in graphics processing units (GPUs) and AI computing. This post unravels the story and significance of NVIDIA in the tech world.
Background Story
NVIDIA is a technology company that specializes in designing and manufacturing graphics processing units (GPUs) and other computer hardware. The company was founded in 1993 by three individuals: Jensen Huang, Curtis Priem, and Chris Malachowsky. The founders had a vision of creating a company that would revolutionize the world of computing by developing advanced graphics technology. They believed that graphics would become an essential part of computing, and they were right.
NVIDIA's founders had a background in the semiconductor industry, and they had previously worked for companies such as AMD and Sun Microsystems. They saw an opportunity to create a new type of graphics technology that would be faster and more efficient than anything that was currently available. They started the company with just $40,000 in the bank, but they quickly secured venture capital funding from Sequoia Capital and others.
Target Customers
NVIDIA's target customers are primarily in the gaming, professional visualization, and data center markets. The company's GPUs are used in a wide range of applications, including gaming, virtual reality, scientific research, and artificial intelligence. NVIDIA's gaming GPUs are popular among gamers and game developers, while its professional visualization GPUs are used by designers, architects, and engineers. The company's data center GPUs are used by businesses and organizations that require high-performance computing for tasks such as machine learning and data analytics. The industries it majorly focuses on are:
Architecture, Engineering, Construction & Operations
Automotive
Consumer Internet
Cybersecurity
Energy
Financial Services
Healthcare and Life Sciences
Higher Education
Game Development
Manufacturing
US Public Sector
Restaurants
Retail and CPG
Robotics
Smart Cities & Spaces
Supercomputing
Telecommunications
Transportation
Featured Customers
NVIDIA's customers include some of the biggest names in the technology industry, such as Amazon, Google, Microsoft, and Facebook. The company's GPUs are used in many of the world's most powerful supercomputers, including the Summit supercomputer at Oak Ridge National Laboratory, which is currently the fastest supercomputer in the world. NVIDIA's GPUs are also used by many leading automotive companies, including Tesla, Audi, and BMW, for autonomous driving and other advanced driver assistance systems.
Funding, Capital Raised, Estimated Revenue NVIDIA has been very successful in raising capital over the years. The company went public in 1999 and raised $70 million in its initial public offering. Since then, the company has raised billions of dollars in capital through secondary offerings and debt financing. The revenue of NVIDIA for the second quarter ended July 30, 2023, is $13.51 billion,
Products and Services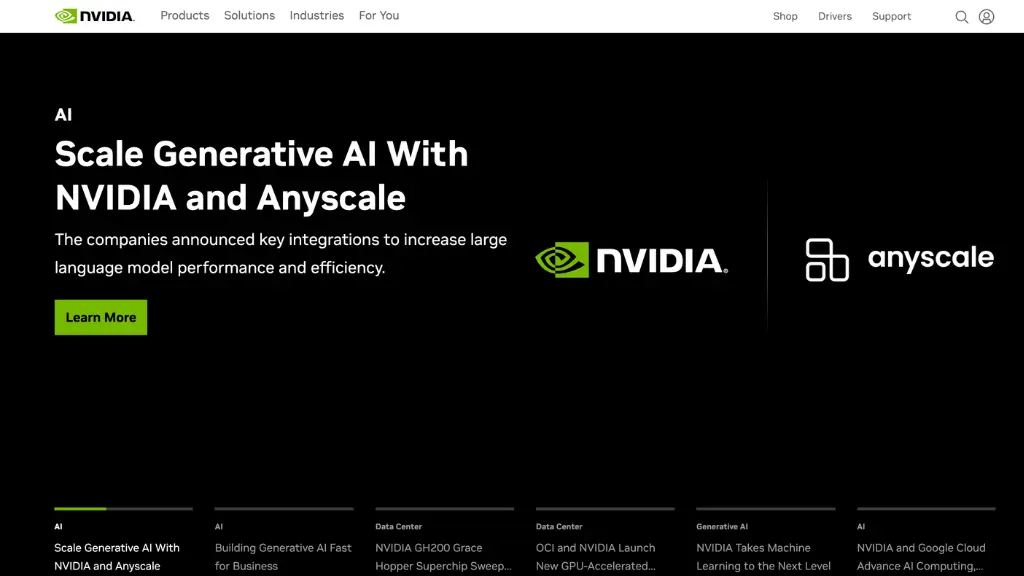 Products
Graphics processing units (GPUs)
System on a chip units (SoCs) for mobile computing and automotive market
Other computer hardware
Services
CUDA programming platform
Software development kits (SDKs) and libraries
AI-powered software for audio and video processing (e.g. Nvidia Maxine)
NVIDIA virtual GPU (vGPU): A technology designed to harness the power of NVIDIA GPUs to accelerate diverse virtual workflows, ranging from AI to virtual desktop infrastructure (VDI). It ensures GPU performance is accessible for every virtual machine (VM), enhancing efficiency and productivity.
VDI Environment powered by NVIDIA vGPU: This service integrates NVIDIA virtual GPU software with the hypervisor at the virtualization layer. It allows for the sharing of a physical GPU among multiple VMs or the allocation of multiple GPUs to a singular VM for handling high-demand tasks.
NVIDIA Virtualization Software: Comes with a specific driver for every VM, ensuring optimal GPU performance and seamless integration with virtual environments.
NVIDIA Quadro® Virtual Data Center Workstation (Quadro vDWS): This software includes the robust Quadro driver, designed to offload tasks traditionally handled by the CPU to the GPU. This not only enhances the user experience but also supports demanding engineering and creative applications in virtualized and cloud setups.
What is Dataminr? A Detailed Insight About This AI Business
Competitors
NVIDIA's primary competitors in the GPU market are AMD and Intel. AMD is known for its Radeon line of GPUs, while Intel has recently entered the market with its Xe line of GPUs. NVIDIA also faces competition from other companies in the AI and data center markets, such as:
Pros and Cons of NVIDIA
Pros
Performance: Nvidia Virtual GPUs are powerful and efficient, especially for 3D rendering, large data sets in AI/ML, graphics-rich virtual workstations, and graphics-heavy project files.
Resource Efficiency: Allows sharing of a single GPU between multiple VMs, thus reducing space and system resources.
Cost Efficiency: Reduces the need for dedicated GPUs for each VM, saving money.
User Experience: Provides the experience of using a physical GPU even on a virtual machine.
Flexibility: Can transform devices without high-end GPUs into powerful workstations. Provides flexibility for remote work setups.
Support: Nvidia provides good online support and drivers.
Business Continuity: Enhanced by its capability to improve the performance and scalability of virtual desktops.
Innovation: Nvidia vGPU is seen as a promising technology and a future-oriented solution.
Cons
Login Requirement: Recent updates require users to have a username and password to check for updates.
Price: Multiple mentions about Nvidia vGPU being costly or overpriced.
User Interface: Some users find the interface technical and counter-intuitive or feel it could be more user-friendly.
Network Dependency: Performance can be affected by the stability of the internet connection.
Licensing: Licensing is considered complex and expensive by some users.
Latency: This can be affected by internet connection quality.
Driver Issues: At least one user had an issue with the Nvidia Windows driver.
Complex Installation: Installation can be tricky for some users.