Dataminr is a cutting-edge AI platform that transforms the vast landscape of digital data into real-time, actionable alerts. Let's see how Dataminr is reshaping the way organizations perceive and respond to global events.
Background Story
Dataminr is a New York-based technology company that specializes in real-time AI and public data analysis. The company was founded in 2009 by three individuals: Ted Bailey, Jeff Kinsey, and Sam Hendel.
Bailey, who serves as the CEO, has a background in finance and previously worked at the investment firm, Citadel.
Kinsey, who is the CTO, has a background in computer science and previously worked at the software company, Palantir.
Hendel, who is the COO, has a background in finance and previously worked at the investment bank Goldman Sachs.
Target Customers
Dataminr's AI platform is designed to help a wide range of organizations, including global corporations, public sector agencies, newsrooms, and NGOs. The platform is particularly useful for organizations that need to stay up-to-date on breaking news and emerging risks. Dataminr's real-time alerts enable tens of thousands of users at hundreds of public and private sector organizations to learn first of breaking events around the world, develop effective risk mitigation strategies, and respond with confidence as crises unfold.
Featured Customers
Dataminr's customers include some of the world's most prominent newsrooms, humanitarian aid organizations, and Fortune 50 businesses. The company's corporate business today includes half of the Fortune 50 and a number of large public sector organizations. Over the last year, Dataminr's large enterprise segment of its customers doubled in revenue growth. Netflix, CNN, Dyson, and BIGLOTS, are some of its feature customers.
Funding, Capital Raised, Estimated Revenue
Dataminr has raised over $1 billion in outside funding. The company received $392.0M in venture funding in July 2018 and recently closed on $475 million in new funding, valuing the company at $4.1 billion as it gears up for an IPO in 2023. Dataminr's estimated revenue is $168M.
Products and Services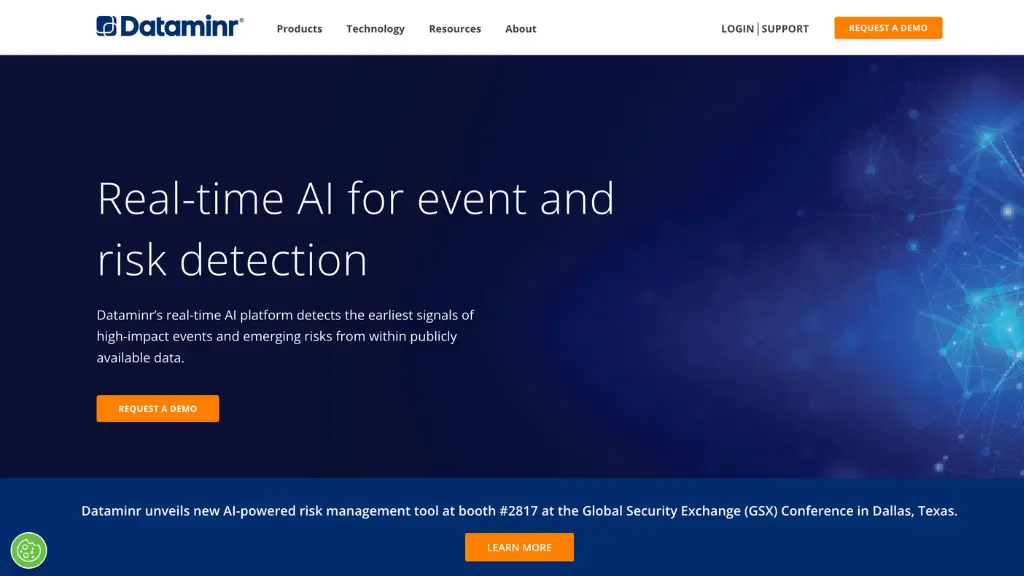 First Alert: Offers real-time alerts to first responders for immediate events, ensuring a swift response.
Pulse: Equipped with state-of-the-art predictive and generative AI, Pulse aids organizations in fortifying business resilience through real-time risk detection and integrated response management tools.
Dataminr for News: A modern AI tool for newsrooms. Over 1,500 newsrooms globally depend on it to detect the earliest signs of breaking news.
What is Weights & Biases? Everything You Need to Know
Competitors
Dataminr's main competitors include other AI and data analytics companies such as:
Pros and Cons of Dataminr
Pros
Real-time Alerts and Mapping: Dataminr provides a dynamic map feature, showcasing real-time alerts and allowing quick situational awareness.
Customer Support: The platform is known for its responsive and helpful customer support team.
Versatility in Alerting: The system is optimized for monitoring and reporting security events, offering both email and app-based notifications.
Customization: Users have the ability to tailor alerts based on specific topics, and the platform offers customization based on GPS coordinates.
Data Quality: Dataminr is praised for providing quality alerts and leveraging diverse data sources, including social media feeds and first responder data.
Language Capabilities: The platform has effective language filters and offers translations of various sources.
Predictive Analysis: Features within the platform allow for anticipatory insights based on emerging trends.
Collaboration with Users: Dataminr actively collaborates with clients to refine and customize their experience, ensuring it meets individual needs.
Intelligence Gathering Potential: With the right expertise, Dataminr can be a powerful tool for gathering intelligence and insights from global events in real-time.
Cons
Information Overload: While the system is rich in data, it can sometimes result in information overload, especially during high-activity periods or in regions with many concurrent events.
User Interface Challenges: Some users find the interface cluttered and not entirely intuitive. Navigating the volume of alerts and features can be daunting for new or non-technical users.
Localization and Integration: There's a desire for better localization, more robust integration with other OSINT tools, and expansion of sources.
Feedback Mechanism: Users expressed a need for a feedback system to correct or give insights on specific alerts or posts.
Relevance of Alerts: The system occasionally provides alerts that are not sorted by relevance, or they aren't sufficiently vetted, leading to potential credibility issues.
Advanced Features: Certain advanced features, like long-term strategic monitoring tools, heatmap functionality, and area analysis, could benefit from improvements.
Learning Curve: Dataminr is packed with features, which can result in a steeper learning curve for some users, though this is mitigated with training and support.
Cost Concerns: The pricing of the product has been raised as a point of concern for some organizations.