Cloudways is a leading cloud hosting platform that offers simplified website management solutions. It provides users with the flexibility to choose from multiple cloud infrastructure providers, ensuring optimized website performance and scalability.
Background Story
Cloudways was founded in 2012 by Aaqib Gadit, Pere Hospital, and Uzair Gadit. The company was created to provide a simple and user-friendly platform for managing cloud hosting services. The founders recognized that many businesses and individuals were struggling to manage their online presence, and they wanted to create a solution that would make it easier for them to do so. Since its founding, Cloudways has grown rapidly, expanding its services and customer base. Today, the company has over 280 employees from 20+ countries, all of whom are focused on serving and supporting their customers.
Target Customers
Cloudways is designed to serve a wide range of customers, including agencies, SMBs, and individuals. The platform is particularly well-suited for those who are looking to outsource their on-ramp to the internet, helping them offload the complexities of cloud infrastructure so they can spend more time running and scaling their businesses.
Featured Customers
Cloudways has a diverse range of customers, including some of the world's leading brands. Some of the company's featured customers include:
Ubisoft
Ricoh
Payoneer
L'Occitane
Virgin Atlantic
Funding, Capital Raised, Estimated Revenue
Cloudways has raised a total of $10 million in funding to date. The company's most recent funding round was in 2018 when it raised $5.6 million in a Series A round led by B&Y Venture Partners. While Cloudways does not disclose its revenue figures, it is estimated to generate $52 million in revenue in fiscal 2022. The company serves over 124,000 customers, paying over $50 per month, representing approximately 84% of the company's total revenue.
What is Iguazio? Detailed Insights on Its Products, Pros, Cons, Competitors and More
Products and Services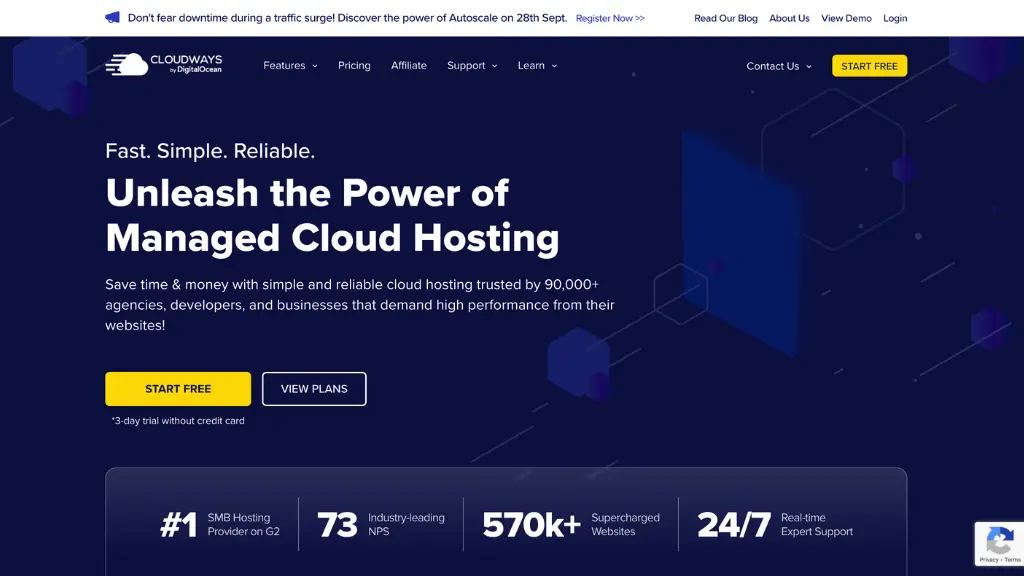 Cloudways offers a range of products and services to help businesses and individuals manage their online presence. Some of the key products and services offered by Cloudways include:
Managed Cloud Hosting: Cloudways offers managed cloud hosting services that are designed to be simple and user-friendly. The platform supports a range of cloud providers, including Google Cloud, DigitalOcean, and AWS, and offers >99.9% uptime, super-fast page load times, pro-active app monitoring, dedicated workflows, leading security, and 24/7 premium support.
Web App Management Platform: Cloudways' Web App Management Platform is a feature-rich platform that can be used to easily launch cloud servers for the deployment of web apps. The platform offers an integrated SSH, Git deployment, FREE SSL, API, and CloudwaysBot, making it easy for users to deploy online web applications like WordPress, Magento, PHP Stack, OpenCart, and Drupal.
CloudwaysCDN: CloudwaysCDN is a content delivery network that is designed to improve website performance and speed. The CDN is powered by Cloudflare and offers global coverage, real-time analytics, and easy integration with Cloudways' hosting platform.
CloudwaysBot: CloudwaysBot is an AI-powered assistant that is designed to help users manage their cloud hosting services. The bot can be used to perform a range of tasks, including server monitoring, app deployment, and security management.
Competitors
Cloudways operates in a highly competitive market, with a range of competitors offering similar services. Some of the key competitors of Cloudways include:
Pros and Cons of Cloudways
Pros
Managed Cloud Hosting: Cloudways offers a managed cloud web hosting model that allows users to easily set up sites on multiple cloud networks such as AWS, Google Cloud, and DigitalOcean without needing any technical experience.
User-Friendly Dashboard: Their platform has an intuitive dashboard that facilitates server management, making it easy to scale resources, monitor performance, and manage multiple websites.
Scalability: Users can conveniently upgrade resources to accommodate traffic surges, ensuring they don't need to switch to a different hosting option when their needs increase.
Integration with Top Cloud Providers: Cloudways smoothly integrates with top cloud infrastructure providers, ensuring a reliable and easily scalable hosting environment.
Developer-Friendly: The platform is equipped with features and optimizations like built-in caching, SSL certificates, staging environments, and automatic backups that cater to developers.
Affordability: Users have highlighted the reasonable pricing of Cloudways, given the features they offer.
Excellent Support: Cloudways offers 24/7 live chat assistance, and many users have praised their responsive and knowledgeable support team.
Security: With features like daily backups (both local and offsite), SSL certificates, and managed security, Cloudways ensures that the websites hosted on its platform are secure and trustworthy.
Ease of Setup: Several users have highlighted how easy it is to get started with Cloudways, with some noting the value of their tutorial videos and the convenience of website cloning.
Cons
Customer Support Delays: Some users have mentioned that the customer support team can sometimes take a long time to resolve technical issues.
Learning Curve for Newbies: For those new to cloud hosting, Cloudways can pose a bit of a learning curve. There's a need for more resources or training to help beginners with the setup process.
Limited Server Customization: Advanced users might find limitations when it comes to server customizations, especially since there's no root access to the servers.
No Direct Access to Infrastructure: Users do not have direct access to the underlying cloud infrastructure, which might be a drawback for some wanting more granular control.
Pricing Concerns: While many find Cloudways affordable, a few users have expressed a desire for even more competitive pricing.
No Domain Registration Service: Cloudways doesn't offer a domain registration service. Users have to purchase domain names from a third-party registrar and then link them to the Cloudways platform.
Billing Confusions: There have been instances where users felt they were unjustly charged or misunderstood the billing process, thinking it was purely pay-as-you-go.
Errors with Integrations: Some users have reported occasional errors, especially when integrated with services like Cloudflare or in PHP hosting.