Traceable AI is a cutting-edge security platform designed to provide in-depth insights and protection for API traffic. It empowers organizations to monitor, analyze, and secure their APIs against a myriad of vulnerabilities and threats.
Background Story
Traceable AI was founded in 2019 by Jyoti Bansal and Sanjay Nagaraj, two experienced entrepreneurs with a passion for building innovative technology solutions. Bansal is a serial entrepreneur and investor, having co-founded AppDynamics, a leading application performance management company that was acquired by Cisco for $3.7 billion.
Nagaraj is a seasoned technology executive with over 20 years of experience in building and scaling enterprise software products. Traceable AI is headquartered in San Francisco, California, and has a team of experienced security professionals, data scientists, and software engineers. The company has also partnered with leading organizations in the security and technology industries, including AWS, Google Cloud, and Microsoft Azure.
Target Customers
Traceable AI's target customers are organizations that rely on APIs to power their digital services, including e-commerce, financial services, healthcare, and government agencies. The company's API security platform is designed to protect APIs at every stage of the development and deployment process, from identifying and testing APIs to evaluating API risk posture, stopping API attacks, and providing deep analytics for threat hunting and forensic research.
Featured Customers
Traceable AI has a growing list of featured customers, including some of the world's leading enterprises across various industries. These customers have deployed Traceable's API security platform in 7 days or less and have benefited from continuous protection as their organizations scale. Some of the featured customers include: –
Jobvite, a leading talent acquisition software company
NextRoll, a marketing and advertising technology company
Informatica, a data management and integration company
FinTech, a financial technology company
Funding, Capital Raised, Estimated Revenue
Traceable AI has raised approximately $80 million in venture financing to date, with the bulk of the funding going toward supporting product development and research. The company announced a $20 million Series A round in July 2020 and a $60 million Series B round in May 2022. The latest Series B funding values Traceable at more than $450 million, and the company plans to use the funds to expand its global reach and accelerate product innovation.
While Traceable AI has not disclosed its estimated revenue, the company has witnessed record growth during the first half of 2023. Traceable AI has also won seven high-profile industry awards, including the 2022 SC Award for Best API Security Solution and the 2022 Cybersecurity Excellence Award for Best API Security.
Products and Services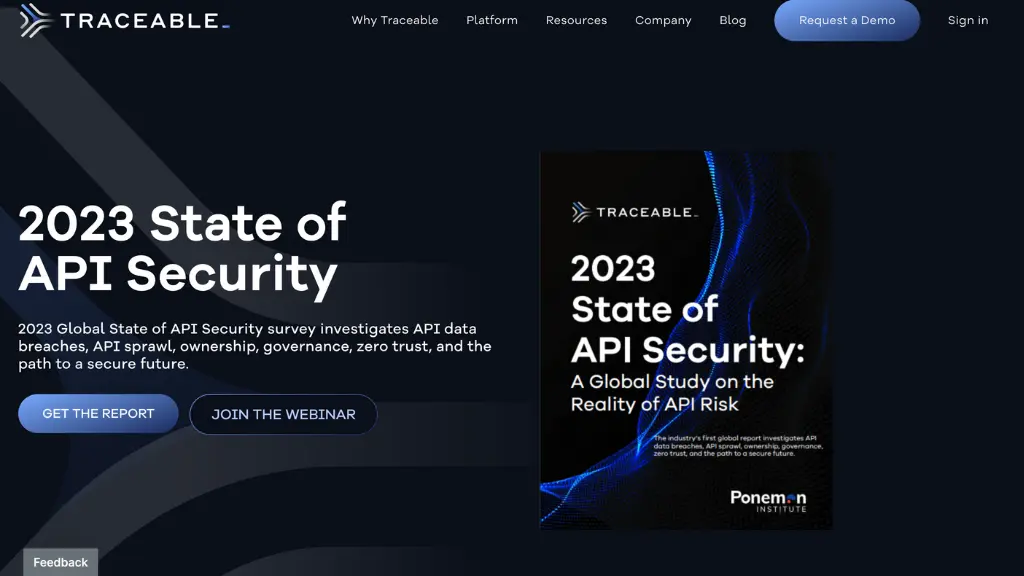 Traceable AI's API security platform provides comprehensive protection for every API, from identifying and testing APIs to evaluating API risk posture, stopping API attacks, and providing deep analytics for threat hunting and forensic research. The platform is powered by machine learning and distributed tracing, which enables Traceable AI to understand the DNA of the application, how it is changing, and where there are anomalies in order to detect and block threats. Traceable AI's API security platform includes the following products and services:
API Discovery: Identifies all APIs in an organization's environment, including shadow APIs and undocumented APIs.
API Risk Assessment: Evaluate the risk posture of each API based on factors such as usage patterns, data sensitivity, and compliance requirements.
API Protection: Stops API attacks in real-time, including OWASP Top 10 attacks, account takeover attacks, and API scraping attacks.
API Analytics: Provides deep analytics for threat hunting and forensic research, including root cause analysis and attack attribution.
What is Harness? Exploring its Features, Alternatives, and More
Competitors
Traceable AI's API security platform competes with other API security solutions on the market, including:
Pros and Cons of Traceable
Pros
Testing Capabilities: Traceable is recognized for its impressive testing functionalities.
Comprehensive Review: The tool provides an in-depth examination of API traffic and displays how data is being used.
Support: Many users appreciate the promptness and effectiveness of the Traceable AI support team. They are proactive and ensure timely updates in response to feedback.
Integration with Other Tools: Traceable AI can integrate seamlessly with other tools, giving users a comprehensive view of their environment.
Visibility of API Endpoints: Offers a variety of deployment options to maximize the visibility of API endpoints.
Blocking Mechanism: Comes with a powerful blocking tool that can operate at different levels.
Tailorability: Users can customize the platform's features to align with their specific requirements.
Shift Left Component: Helps verify vulnerabilities before they make it to production.
Data Flow Insight: Provides a detailed overview of data flow in an environment.
Cons
Complex User Interface: Several users find the user interface confusing, particularly given its startup origins.
Limited Features: While the platform has a breadth of configuration options, some of them are not yet feature-complete.
Deployment Issues: For complex environments, a new deployment can be a challenge and might require more coordination with the support team.
Update Process: Some users find the process of updating the tool, especially the need to uninstall and reinstall, cumbersome.
Documentation: There is room for improvement in providing comprehensive documentation that covers all use cases.
Reporting: Users have expressed the need for improved reporting capabilities, especially for historical data.
Technical Limitations: Certain functionalities, like the mirroring mechanism for specific endpoints, have areas of improvement, like filtering data before transmission or compressing data before mirroring.