CloudFactory stands as a game-changer in the realm of digital workforce solutions, blending human intelligence with advanced technology. In this exploration, we'll unpack its diverse uses, distinctive features, and the competitors it contends with in the industry.
Background Story
CloudFactory was founded in 2010 by Mark Sears, who had previously worked in Nepal as a volunteer and saw the potential of the country's workforce in the global market. He started CloudFactory with the aim of providing meaningful work to people in developing countries while helping businesses automate and outsource their back-office data work. The company is headquartered in Kowloon, China, and has offices in the US, UK, and Nepal. CloudFactory has received funding from several institutional investors, including FTV Capital, Sovereign's Capital, and Praxis.
Target Customers
CloudFactory's target customers are startups and growing companies that need to automate and outsource their back-office data work. The company's API allows businesses and developers to integrate a virtual factory for types of digital work such as tagging images, moderating content, generating sales leads, and transcribing audio content. The work is done virtually by workers around the world, providing businesses with a scalable and cost-effective solution for their data work needs. The industries it majorly focuses on include:
Aerial and Geospatial
Autonomous Vehicles
Finance
Healthcare
Insurance
Retail
Featured Customers
CloudFactory has worked with several high-profile customers, including Microsoft, Drive.ai, and Ibotta. Microsoft used CloudFactory's services to train its AI models for image recognition, while Drive.ai used the company's data labeling services to develop its self-driving car technology. Ibotta, a mobile shopping app, used CloudFactory's services to categorize and tag product images for its platform.
Funding and Capital Raised
CloudFactory has raised a total of $78 million over five funding rounds. The company's first funding round was in September 2012, and its latest funding round was a Series C round in November 2019 for $65 million. The round was led by FTV Capital, with participation from Weatherford Capital. CloudFactory's estimated revenue is not publicly available.
Products and Services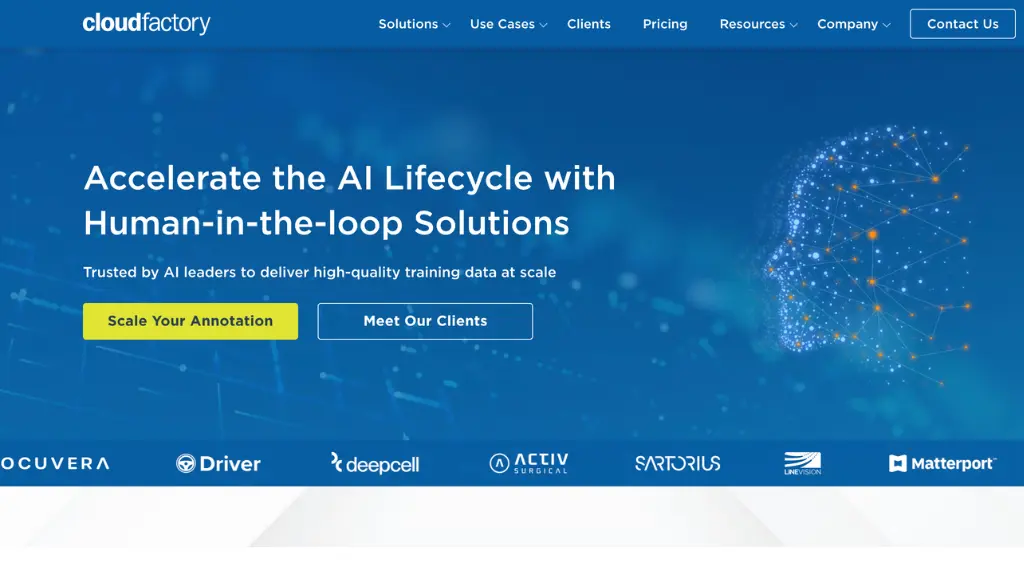 CloudFactory provides an API for businesses and developers to automate and outsource their back-office data work. The company's services include data labeling, data enrichment, data entry, and data transcription. CloudFactory's workers are trained to perform these tasks accurately and efficiently, ensuring high-quality results for its customers. The company's API allows developers to integrate jobs and work into other applications and sites, making it easy for businesses to manage their data work needs.
Accelerated Annotation
Workforce Plus
Vision AI Managed Workforce
Human-in-the-Loop Automation
What is Deepest, Uses, Alternatives, Features, and More
Competitors
CloudFactory operates in a highly competitive market, with over 200 active competitors. Some of CloudFactory's top .. competitors include:
Pros and Cons of CloudFactory
Pros
Offers effective tools with an efficiency rate of up to 80%.
Features a good variety of tools to streamline tasks.
Known for being responsive and reliable.
Assists in accurately extracting text from different receipts.
Has built-in capabilities for integration with AI/ML.
Facilitates flexible app deployments and scaling processes.
Enables third-party service integrations.
Provides work-from-home opportunities.
Advocates for community welfare with weekly projects for workers.
Cons
Needs a wider variety of tools for enhanced efficiency.
Requires more AI-based tools.
The performance of OCR capabilities can be improved with more integration options.
The user interface could benefit from updates.
Debugging issues using CF logs can be challenging.
Certain versions of the CF CLI do not provide the expected log viewing capabilities.