Datagen is a renowned provider in the realm of synthetic data generation, bridging the gap between AI model training and real-world application. Venture further into this post to discover the extensive details about their offerings.
Background Story
Datagen is a self-service synthetic data platform that enables computer vision (CV) teams to generate data, train and evaluate models, and develop future products in the worlds of AR/VR/Metaverse, In-cabin Vehicle Safety, IoT Security, and more. The company was founded in 2018 by a team of world-renowned AI experts, including CEO Ofir Chakon, CTO Dror Sholomon, and VP of R&D Dr. Yair Movshovitz-Attias. The company is headquartered in Tel Aviv, Israel, with an office in New York.
Target Customers
Datagen's target customers are CV teams that require high-quality, diverse, and human-centric synthetic data to train their machine-learning models. The company's platform is designed to meet the needs of various industries, including.:
In-cabin automotive
Security
Fitness
Cosmetics
Smart office
Featured Customers
BMW is one of Datagen's featured customers. The company uses Datagen's platform to generate synthetic data for its autonomous driving systems. By using Datagen's technology, BMW can simulate real-world scenarios and train its machine-learning models to make better decisions on the road.
Funding, Capital Raised, Estimated Revenue
Datagen has raised over $70 million in funding to date, with its latest Series B round raising $50 million. The round was led by new investor Scale Venture Partners, with partner Andy Vitus joining Datagen's board of directors. The company's estimated revenue is not publicly available.
What is Keymakr? A Holistic View of Its Pros, Cons, Uses and Competitors
Products and Services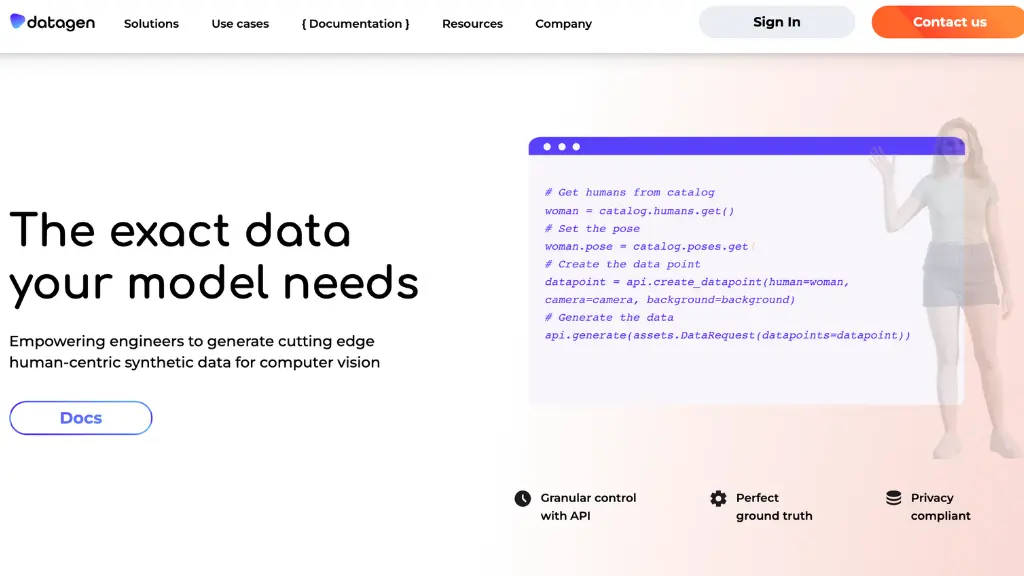 Datagen's platform offers two types of access options: platform-based and API-based.
The platform-based access option allows users to easily integrate Datagen into their projects, while the API-based access option provides more flexibility and control over the data generation process. The platform also offers built-in data augmentation features, which enable users to increase the size of their datasets and add diversity.
Competitors
Datagen's main competitors in the synthetic data market include companies such as:
Pros and Cons of Datagen
Pros
Enhanced AI Model Training: Datagen's realistic datasets allow users to train and test AI models with higher accuracy.
Seamless Integration: Users can easily integrate Datagen into their computer vision pipeline using its platform and API access.
Diverse and Accurate Datasets: Datasets can be created to accurately match use cases, enhancing the effectiveness of computer vision projects.
Customizable Datasets: Provides users with the ability to create datasets tailored to specific needs with precise control over content.
Platform and API Access: Offers both platform-based and API-based access options for ease of integration.
Human-Centric Content: Allows for the creation of datasets with human-focused content, simulating real-world scenarios.
Built-in Data Augmentation: Users can expand the size of their datasets and add diversity using built-in data augmentation tools.
Positive User Feedback: Users appreciate the platform, mentioning benefits like aiding multiple departments and making a positive impact on future goals.
High Ratings: Datagen received high ratings for features, ease of use, value for money, and customer support.
Cons
Navigation Difficulties: Some users found it challenging to navigate the platform, especially in relation to feedback and data recovery.
Comparison with Other Products: While not necessarily a con, it's mentioned that Datagen allows computer vision engineers to create high-fidelity synthetic data with granular control, suggesting it may have more specialized or advanced features compared to some alternatives.
Potentially higher cost compared to traditional data collection and annotation methods – Synthetic data may not be as representative of real-world scenarios as real-world data.