Roboflow is an end-to-end computer vision platform that simplifies the process of building computer vision models. Let's explore its multifaceted capabilities and how it's revolutionizing the AI landscape.
Background Story
Joseph Nelson and Brad Dwyer have a history of building award-winning computer vision-powered projects, including Product Hunt's Augmented Reality App of the Year. Their previous work inspired the creation of Roboflow. After respectively exiting their last companies, the two co-founders teamed up again to launch a new AR project, this time with a focus on board games. In 2019, the team participated in the TC Disrupt hackathon to add chess support to that app, but in the process, they realized that they were spending a lot of time trying to solve the same problems that everybody else in the computer vision field was facing. This led to the creation of Roboflow.
Target Customers
Roboflow's target customers are developers who want to build computer vision models without any barriers. The platform is designed to simplify the process of building computer vision models, making it accessible to developers of all skill levels. Roboflow's customers include startups, small and medium-sized businesses, and large enterprises. The industries it majorly focuses on include:
Aerospace & Defense
Agriculture
Automotive
Banking & Finance
Government
Healthcare & Medicine
Manufacturing
Oil & Gas
Retail & E-commerce
Safety & Security
Telecommunications
Transportation
Utilities
Featured Customers
Roboflow has a diverse range of customers, including startups, small and medium-sized businesses, and large enterprises. Some of its featured customers include:
OpenAI: OpenAI is an artificial intelligence research laboratory consisting of the for-profit corporation OpenAI LP and its parent company, the non-profit OpenAI Inc. OpenAI uses Roboflow to build computer vision models for its research projects.
VSCO: VSCO is a photo editing and sharing app that allows users to create and share their own photos. VSCO uses Roboflow to build.
Capital Raised, Estimated Revenue
Roboflow has raised $2.1 million in seed funding in a round co-led by Lachy Groom and Craft Ventures. Additional investors include Segment co-founder Calvin French-Owen, Lob CEO Leore Avidar, Firebase co-founder James Tamplin, and early Dropbox engineer Aston Motes, among others. The company is a graduate of this year's Y Combinator summer class. While there is no information available on Roboflow's estimated revenue, the company has been growing steadily since its inception.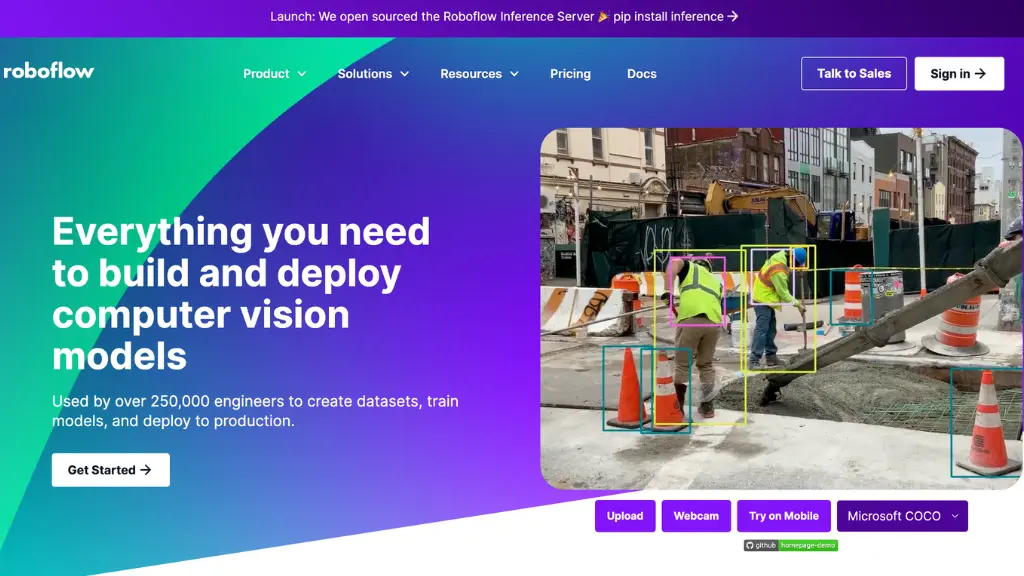 Features/Products and Services
Model Training:
Roboflow Train: Train your model with one click. Receive results like mAP, precision, and recall, plus a hosted API for inference within 24 hours.
Two Model Types: Provides options based on your use cases.
Model Training Tools (Enterprise): Direct integrations with computer vision model training services such as Amazon Rekognition, Google Cloud Vision AutoML, and Azure Custom Vision.
Access & Security:
Unlimited Data Retention: Securely store and archive datasets indefinitely.
Dataset Management:
Unlimited Datasets: Organize your data without any dataset limits.
Train/Test Split: Divide data into train, validate, and test sets for post-training model evaluation.
Annotation and Labeling:
Roboflow Annotate: Label images and support multiple annotation formats such as JSON, XML, CSV, and TXT.
Model-assisted Labeling: Use Roboflow Train models to speed up annotation work.
Video Processing: Extract frames from uploaded video files like MOV, mp4, and avi based on the specified sample rate.
Image Formats:
Supported Formats: Upload JPG, PNG, BMP, and TIF image files.
Pre-processing and Augmentation:
Preprocessing: Includes features like auto-orient, resize, grayscale, and more.
Augmentation: Features like random flip, rotate, crop, etc. Up to 50 augmented versions of each source image (limited to three for Public Plan users).
Model Understanding & Analytics:
Health Check: Offers detailed statistics for dataset quality improvement.
Class Balance: View dataset class breakdown and annotation counts.
Dimension Insights: Visualize image sizes and aspect ratio breakdowns.
Annotation Heatmap: Visual representation of annotation locations within your dataset.
Universal Hosting:
Export Features: Export your training data in over 15 formats and track progress with version history.
Curl Link: A curl link for each export, allowing easy integration into notebooks and command-line download capabilities.
Competitors
Roboflow's main competitors include other computer vision platforms such as:
Pros and Cons of Roboflow
Pros
Easy to use with an intuitive user interface.
Excellent tech support with quick responses.
Well-designed app experience.
Offers a wide range of features without overwhelming users.
Streamlines workflow in a single workspace.
Provides a custom training notebook.
Improves image classification model accuracies using their image augmentation service.
Potential to help beginners with repeat programming questions.
Specially designed tools to assist in AR game development that leverage computer vision.
The community license is beneficial for learning and getting started.
Cons
Awaiting Classification export to Snap AR capabilities.
Lacks functionality for bulk editing class labels.
More documentation is needed on Yolo classifications.
Some find the pricing steep and potentially inflexible for users who don't need all the features.