Iguazio is a data science platform designed to bring AI applications from development to production seamlessly. It offers real-time analytics and machine learning capabilities to accelerate the deployment of AI applications.
Background Story
Iguazio is a data science platform that was founded in 2014 by Yaron Haviv, Asaf Somekh, and Orit Nissan-Messing. The company is based in Herzliya, Israel, and is owned by a privately held company of the same name, Iguazio Ltd. The founders of Iguazio have a background in developing high-performance computing systems and have worked with some of the world's largest organizations, including Intel, Mellanox, and IBM.
Target Customers
Iguazio's platform is designed to help businesses build and deploy AI applications at scale. The platform is cloud-native and supports both on-premises and multi-cloud deployments. Iguazio's target customers are organizations that want to unlock the full potential of their data and AI investments by making it easier to build and deploy AI applications that drive business value. The platform is particularly well-suited for organizations in industries such as:
Financial Services
Telecommunications
Smart Mobility
Manufacturing
Retail
Ad-Tech
Gaming
Healthcare
Energy and Utilities
Featured Customers
Iguazio has a number of high-profile customers, including Payoneer, a global payments platform that uses Iguazio's platform to process millions of transactions per day. Other featured customers include Outbrain, a content discovery platform, and Verint, a provider of customer engagement solutions.
Funding, Capital Raised, Estimated Revenue
Iguazio has raised $72M over 7 rounds of funding. The company's latest funding round was an acquisition by McKinsey & Company on January 23, 2023. Iguazio's estimated revenue in 2023 was $10M, with a year-over-year growth rate of 50%.
What is Freedom Robotics? Get to Know its Features, Competitors, Pros, Cons, and More
Products and Services
Iguazio's platform includes a range of tools and services for data ingestion, processing, analysis, and deployment, all designed to accelerate the development and deployment of AI applications. The platform is built on a serverless architecture, which allows for rapid scaling and reduces the need for infrastructure management. Some of the key features of iguazio's include: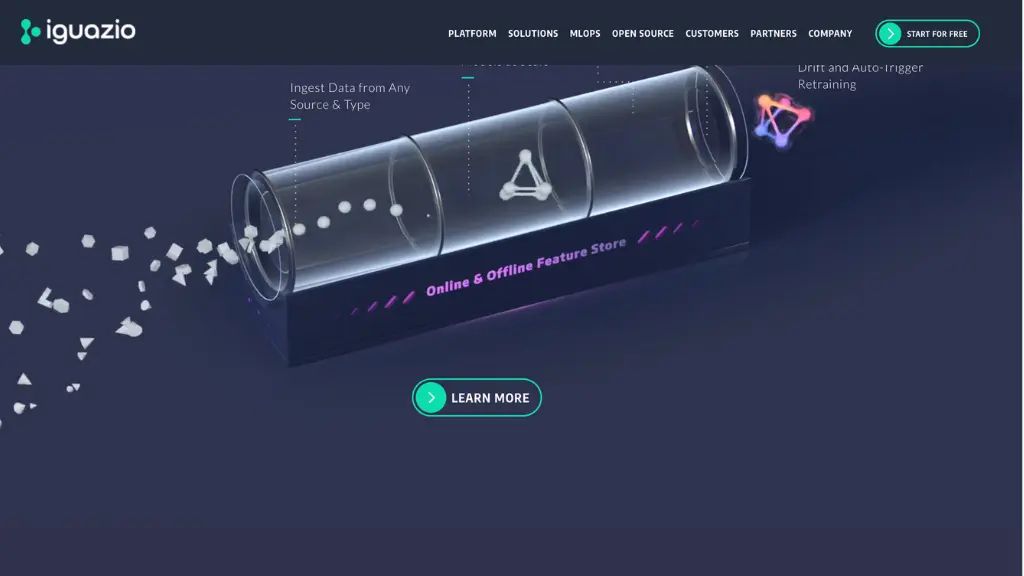 Platform:
MLOps Platform: A platform to operationalize machine learning, from data integration to model deployment.
Integrated Feature Store: A centralized repository for machine learning features, simplifying feature engineering and reuse.
Technology: Advanced tools and solutions to enhance data processing and AI application development.
Security: Measures and protocols to ensure the protection of data and AI models.
Documentation: Comprehensive guides and resources for utilizing Iguazio's platform and features.
Solutions:
By Use Case: Specialized offerings to address specific needs, such as:
MLOps for Generative AI
ML Pipeline Orchestration
Model Monitoring
Real-Time Feature Engineering
CI/CD for ML
GPU as a Service
Serverless Automation
Data Mesh for MLOps
Secure IT Environments
MLOps:
MLOps Resources: A repository of materials for understanding and implementing MLOps.
MLOps Live Webinar Series: Live sessions discussing various aspects of MLOps.
MLOps Glossary: Definitions and explanations of common terms in the MLOps domain.
MLOps Q&A: A platform to address queries related to MLOps.
Open Source:
MLRun: An end-to-end open-source MLOps solution to manage and automate the machine learning lifecycle.
Nuclio: A high-performance serverless framework focused on data, I/O, and compute-intensive workloads.
Competitors
Iguazio's platform competes with a number of other data science platforms, including:
Pros and Cons of Iguazio
Pros
Seamless Model Deployment: Iguazio simplifies the data science process, enabling users to seamlessly take models to production.
Cost Saving: It allows businesses to save costs using innovative solutions across various use cases.
Real-time Model Development: Iguazio aids in developing real-time models. This reduces the time to get the model into production.
Strong Support: The company provides constant support to its users.
Focused Product: Iguazio is very data scientist-centric, with robust support for Python.
Ease of Deployment: The platform offers easy deployment with Kubernetes, facilitating multi-cloud support.
Excellent Customer Support: Overall, the feedback on customer support is positive.
Real-time Data Analytics: Iguazio can provide genuine real-time data analytics, processing data much faster than batch process systems.
Data Layer and Pipelining: Users appreciate the easy pipelining and services provided for ML models.
Open-Source Foundation: Iguazio is grounded in open source and emphasizes performance.
Team Collaboration: The platform is designed to enhance collaboration among teams.
Optimized Orchestration: It offers a harmonious blend of excellent open-source modules/tools and a proprietary data layer that is optimized for performance.
Simple IT Management: Despite its complexities, Iguazio keeps the solution straightforward at the IT management level.
Lifecycle Management: Provides comprehensive lifecycle management for Data Science projects.
Cons
Proprietary Data Management: Users have raised concerns about the proprietary approach to data management due to potential lock-in issues, performance challenges, and backup concerns.
Database Support: There's a desire for more common databases/Kafka queues to be supported to the same extent.
Licensing Scheme: Its licensing scheme is based on cores, which can hinder elasticity for sporadic large jobs, leading to additional capacity planning.
Backup Concerns: The proprietary backup solutions can be seen as limiting.
Data Stream Issues: Some users have reported issues with the data stream, necessitating workarounds, especially within Oracle environments.
Documentation: There are concerns about inadequate or unclear documentation.
User Onboarding: There is room for improvement in the onboarding process for new users.
Cost Visualization: Users would like better visualization and capture of costs/utilization at a granular level.
Data Preparation: The data preparation process is viewed as a work in progress, not as user-friendly as other tools in terms of GUI/functions.