Samsara is a cutting-edge fleet management and tracking solution that provides real-time insights for businesses. Dive into this article to unravel how Samsara is redefining the way enterprises manage and monitor their assets.
Background Story
Samsara is a technology company that was founded in 2015 by Sanjit Biswas and John Bicket. The two co-founders had previously worked together at Meraki, a cloud-managed IT company that was later acquired by Cisco Systems. With Samsara, Biswas and Bicket aimed to digitize operations and make them safer, more efficient, and sustainable. The company's first product was the Vehicle Gateway, which allowed real-time fleet operations tracking of temperature, GPS location, and vehicle diagnostics.
Target Customers
Samsara's target customers are businesses that operate fleets of vehicles, such as trucking companies, delivery services, and construction firms. The company's products and services are designed to help these businesses improve their operations, reduce costs, and increase safety. Samsara's customers include a wide range of companies, from small businesses to large enterprises. Some of the company's featured customers include Anheuser-Busch, Nestle Waters, and Schneider.
Funding, Capital Raised, Estimated Revenue
Since its founding, Samsara has raised over $930 million in funding from investors, including Andreessen Horowitz, General Catalyst, and Tiger Global Management. In 2021, the company raised $400 million in a Series H funding round, which valued the company at $6.3 billion. Samsara's estimated revenue has been steadily increasing over the years. In the first quarter of fiscal year 2024, the company reported a total revenue of $204.3 million, representing a 43% year-over-year growth. The company's ending Annual Recurring Revenue (ARR) was $856.2 million, representing a 41% year-over-year growth.
What is Manhattan? From Basics to Brilliance in Modern Warehousing
Products and Services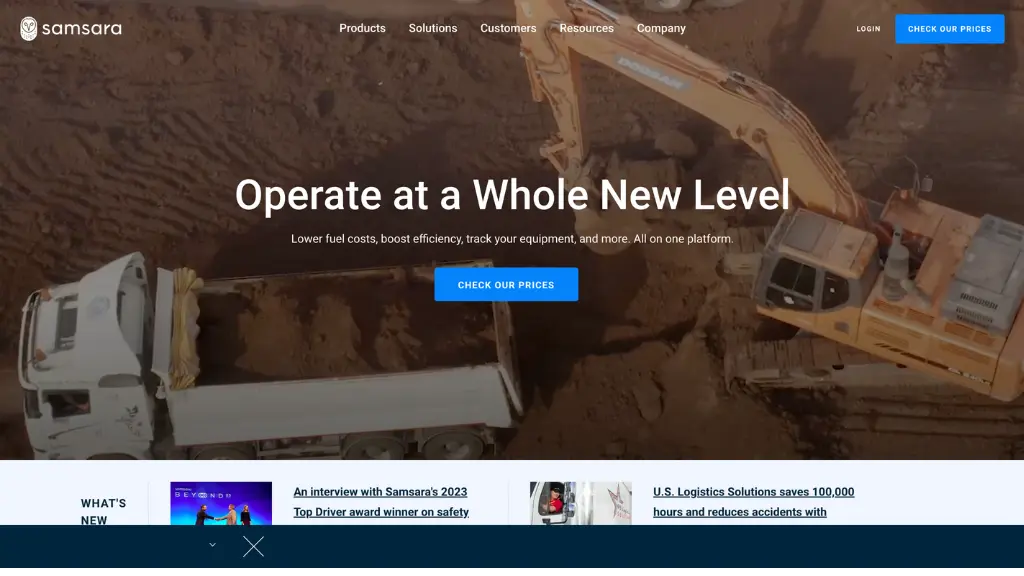 Samsara offers a range of products and services that are designed to help businesses improve their operations.
Fleet management software with live-to-the-second GPS tracking
Rich reports for better route planning, dispatching, and sharing accurate ETAs
Integrated dash cams, driver safety scores, and automatic alerts for speeding, idling, and geofences
Asset tracking solution for real-time tracking of trailers, containers, and equipment
Temperature monitoring solution for perishable goods transportation
Industrial IoT solutions for monitoring and optimizing operations, including energy usage, machine
Competitors
Samsara operates in a highly competitive market, with several other companies offering similar products and services. Some of Samsara's main competitors include:
Pros and Cons of Samsara
Pros
Real-time Tracking: Provides precise location data of techs or vehicles, assisting in emergencies and understanding exact positions.
Convenient for Shipment Tracking: Allows users to monitor the live movement of trucks, eliminating the need for constant updates from dispatchers or drivers.
Invaluable Data Access: Grants access to a vast amount of invaluable data about fleets, which was previously hard to obtain.
Custom Reports: Offers the ability to create custom reports tailored to unique operational needs.
Accuracy: Provides updates on road issues, blocked roads, and the speed at which a vehicle is traveling.
Ease of Use: Many users found the interface modern, easy to install, and easy to use.
Safety Features: Offers an AI-based integrated platform for safe operations, with features like the AI safety program and real-time visibility.
Camera & Video Features: High-quality video and camera features, especially the forward-facing dash cams that provide evidence in incidents or accidents.
Informative Reports & Statistics: Detailed information, statistics, and analytics for better fleet management.
Integrated Communication: Collects a huge amount of data, allowing entire teams to track vehicles and communicate efficiently.
Responsive Customer Service: Many users appreciated the responsiveness and supportiveness of the Samsara sales and customer service team.
Cons
Confusing User Interface (UI): Some users found the UI confusing and challenging to navigate.
Incomplete Tracking: Some users expressed the need for tracking where the truck has been or where they are coming from.
Driver App Issues: The ease of use of the Driver App can be improved, especially for less tech-savvy users.
Load Status: The system does not confirm the status of the load (e.g., loaded, in transit, delivered).
Costs: While perceived as valuable, some users found Samsara to be costly.
Basic Modules: Modules like the maintenance module were found to be very basic for some users.
Shipping/Inventory Management: A need was expressed for more shipping and inventory management options.
Occasional Glitches: Some users reported glitches and inaccuracies in the system, such as location not always being updated or current.
Limited Reporting Customization: The reporting structure is not as customizable or convenient as some users would prefer.
Imprecise Location Data: Some users noticed that the locations provided are not always precise.
Overwhelming Information: Too much information provided at once can be confusing, especially without a step-by-step automation approach.