Manhattan is a leading warehouse management system, streamlining supply chain operations for businesses globally. Let's see in detail its functionalities and impact on modern warehousing.
Background Story
Manhattan Associates was founded in 1990 by a group of five technology experts who were hired by clothing retailer Jockey as part of a larger project to install an ERP system. While working together, the five noticed gaps in Jockey's ability to ship its goods to larger retailers.
They decided to start their own company and designed a new packaged Warehouse Management System (WMS) that would empower manufacturers to comply with the complex shipping and labeling requirements of large retailers. They named their new company Manhattan Associates, a reference to their initial location in Manhattan Beach, California.
Target Customers
Manhattan Associates' solutions are designed to meet the needs of businesses of all sizes, from small startups to large multinational corporations. The company's target customers include retailers, manufacturers, distributors, and logistics providers. Manhattan Associates' solutions are particularly well-suited for businesses that operate in complex supply chain environments, such as those with multiple warehouses, distribution centers, and retail locations. The industries it majorly focuses on include:
Consumer Goods
Food & Beverage
Grocery
Manufacturing
Medical & Pharmaceutical
Retail
Trucking / Carrier Management
Wholesale
3rd Party Logistics
Featured Customers
Manhattan Associates has an impressive list of featured customers, including some of the world's largest and most well-known brands. These include Walmart, Nike, Coca-Cola, FedEx, and Home Depot, among others. The company's solutions have helped these businesses optimize their supply chain operations, reduce costs, and improve customer satisfaction.
Funding, Capital Raised, Estimated Revenue
Manhattan Associates is a publicly traded company (NASDAQ: MANH) with a market capitalization of over $8 billion. The company has a strong financial position, with a debt-to-equity ratio of just 0.02 and a current ratio of 1.67. Manhattan Associates has not disclosed its total capital raised, but the company has a long history of profitability and has consistently generated strong revenue growth. In 2020, the company reported total revenue of $602.6 million, up from $587.1 million in 2019.
What is NVIDIA? A Detailed View of This Tech Company
Products and Services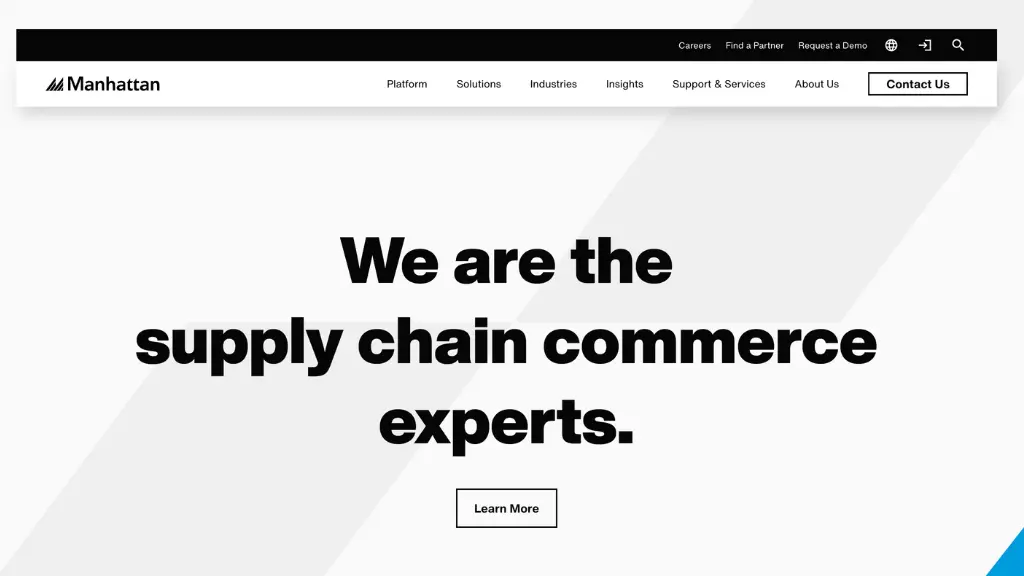 Manhattan Associates offers a wide range of cloud-based supply chain management solutions, including:
Warehouse Management System (WMS): Manhattan Associates' flagship product is its WMS, which helps businesses optimize their warehouse operations by providing real-time visibility into inventory levels, order status, and shipping information. The WMS is designed to be highly configurable and can be customized to meet the specific needs of each customer.
Transportation Management System (TMS): Manhattan Associates' TMS helps businesses optimize their transportation operations by providing real-time visibility into shipment status, carrier performance, and transportation costs. The TMS is designed to help businesses reduce transportation costs, improve delivery times, and enhance customer satisfaction.
Order Management System (OMS): Manhattan Associates' OMS helps businesses manage their omnichannel order fulfillment operations by providing real-time visibility into inventory levels, order status, and shipping information across all channels. The OMS is designed to help businesses improve order accuracy, reduce order processing times, and enhance customer satisfaction.
Point of Sale (POS) and Store Solutions: Manhattan Associates' POS and store solutions help businesses optimize their in-store operations by providing real-time visibility into inventory levels, sales data, and customer behavior. The POS and store solutions are designed to help businesses improve store performance, reduce costs, and enhance customer satisfaction.
Competitors
Manhattan Associates faces competition from a number of other supply chain management solution providers, including:
Pros and Cons of Manhattan
Pros
Ease of Use: It simplifies warehouse tasks and manages tasks like packing and storage.
Flexibility: Highly flexible to cater to varying needs.
Best Practices: Incorporates the best practices of the supply chain industry.
Innovation: Continual addition of new features.
Reputation: Ranked highly by Gartner, a known authority in tech research.
Navigation: Users find it easy to navigate, with convenient switches between different tabs.
Multifunctionality: Serves a variety of purposes and functions.
Customizability: This can be customized to fit unique business needs and preferences.
Integration: Effective integration with ERP systems and other software.
Cons
Tracking Issues: Live tracking of shipments needs to be more accurate.
Lack of Updates: Proper updates on storage are currently missing.
Customer Service: The quality of customer support can be enhanced.
Cost: The licensing and support costs are high compared to competitors.
Performance: Some users experienced slow loading of information.
Display Issues: Some users found the on-screen elements to be too small.
Stability: Occasional system freezes or unexpected logouts have been reported.
Integration Difficulties: It can be challenging to integrate with automated material handling equipment.
Training: Due to its expansive nature, users wish for more comprehensive training resources.