Dataloop is a cutting-edge platform renowned for its prowess in data management, image recognition, and AI-driven solutions. Delve further into our exploration to uncover the nuances and distinctive attributes that position Dataloop at the forefront of technological innovation.
Background Story
Dataloop is a Tel Aviv-based startup that was founded in 2017 by Eran Shlomo, Or Garini, and Or Lenchner. The company specializes in helping businesses manage the entire data life cycle for their AI projects, including data annotation, management, and validation. Dataloop's founders have a background in computer vision and machine learning, and they have previously worked with organizations such as the Israeli Defense Forces and Intel.
Target Customers
Dataloop's platform is designed to serve a wide range of industries, including:
Retail
Drones & Aerial Imagery
Robotics
Autonomous Vehicles
Precision Agriculture
Media & Content
The company's target customers are businesses that are looking to build real-world artificial intelligence (AI) solutions but are struggling with data labeling limitations and a lack of real-time validation. Dataloop's platform is agnostic to the vertical its customers are in, and it can be customized to meet the specific needs of each customer. Dataloop has already attracted some high-profile customers, including Intel, Samsung, and ViSenze. These companies have used Dataloop's platform to manage and annotate their visual data, which has helped them to improve the accuracy and efficiency of their AI models.
Capital Raised, Estimated Revenue
Dataloop has raised a total of $16 million in funding to date. This includes a $5 seed round that was previously unreported, as well as an $11 million Series A round that recently closed. The Series A round was led by Amiti Ventures, with participation from F2 Venture Capital, crowdfunding platform OurCrowd, NextLeap Ventures, and SeedIL Ventures. Dataloop has not disclosed its estimated revenue, but the company has stated that it will use the new funding to grow its presence in the U.S. and European markets and build out its engineering team.
Products and Services
Dataloop's platform offers a range of services, including:
Quality
Labeler Quality
Task Quality
Data Quality
Human-in-the-Loop
Automation
Machine Learning Pre-Labeling
Automatic Routing of Labeling
Image Annotation
Image Segmentation
Object Detection
Object Tracking
Data Types
Natural Language Annotation
Named Entity Recognition
OCR
Recognition Type
Object Detection
Text Detection
Labeling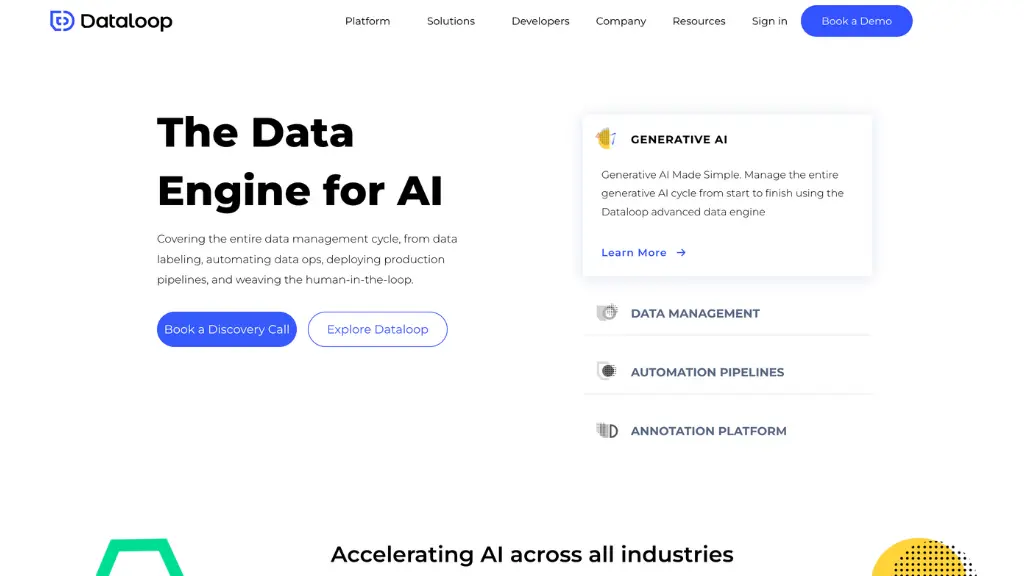 Competitors
Dataloop operates in a competitive market, with several other companies offering similar services. Some of Dataloop's competitors include:
Pros and Cons of Dataloop
Pros
Top Notch Features and Scalability: Dataloop offers robust features for image recognition and data labeling. It can handle vast amounts of data and deliver near-perfect accuracy. Its scalability allows businesses to upscale data quality without hassles.
Seamless Data Infrastructure: It creates an end-to-end data infrastructure that makes it straightforward to deploy computer-vision pipelines.
User-friendly Integration and Security: Dataloop prioritizes seamless integration along with ensuring the highest security levels for data.
AI-Driven Excellence: The tool's AI engine is commendable, aiding in projects ranging from facial recognition to logo detection.
Deployment Efficiency: Many users have praised the tool for its ease in deploying production pipelines.
Versatility in Data Management: Dataloop supports the import and export of data in various significant formats, enhancing its versatility.
Cons
Performance Issues: When handling vast datasets, Dataloop occasionally experiences performance slowdowns.
Notification Delays: Some users reported delays in notifications, especially when there's a pipeline failure, which can disrupt the workflow.
UI Concerns: While some users found the UI intuitive, others felt there's room for improvement, especially when handling larger pipeline graphical interfaces.
Crashes and Outages: There have been instances where Dataloop crashed or experienced outages, affecting user operations.
Documentation Limitations: The lack of extensive documentation can pose challenges for newcomers, making the learning curve steeper.
Update and Feature Lags: Some users felt that Dataloop could be more proactive in rolling out updates and feature enhancements.