Data robots are revolutionizing the analytics landscape, automating complex processes to extract meaningful insights from vast datasets. Join us on this journey as we explore the nuances of these advanced tools.
Background Story
DataRobot is an AI company that was founded in 2012 by Jeremy Achin and Tom de Godoy. The company was established with the aim of democratizing AI and making it accessible to everyone. The founders believed that AI could be used to solve some of the world's most pressing problems, but it was only accessible to a few people with specialized skills. They wanted to change that by creating a platform that could automate the entire AI workflow, from data preparation to model deployment.
Target Customers
DataRobot's AI platform is designed to serve a wide range of industries, including:
Healthcare and life sciences
Manufacturing
Retail
Financial services.
The platform is used by data scientists, business analysts, and IT professionals to build and deploy AI models that can help organizations make better decisions and improve their operations.
Some of DataRobot's featured customers include United Airlines, Deloitte, Harmoney, Stanley Black & Decker, and Blue Health Intelligence.
Capital Raised, Estimated Revenue
DataRobot has raised a total of $1 billion in funding over 11 rounds. The company's latest funding was raised on June 29, 2021, from a Series G round. DataRobot is funded by 40 investors, with Salesforce Ventures and Sutter Hill Ventures being the most recent investors. DataRobot has a post-money valuation in the range of $1 billion to $10 billion as of June 27, 2021. The company's estimated revenue is not publicly available.
Products and Services
AI Experimentation
Prepare Data for AI: Seamlessly connect data, ensure its quality, engineer features, and utilize feature stores.
Build and Optimize: Harness structured and unstructured data to train a multitude of modeling strategies concurrently.
Share Insights & Decision-making: Evaluate models, pinpoint key influencers, and develop tailored apps for decisive actions.
AI Production
Validate & Govern AI Assets: Establish a centralized archive for all models, ensuring testing, approval, and automation of compliance documentation.
Deploy & Integrate AI: With a myriad of options, deploy and merge any model anywhere.
Monitor & ROI Analysis: Real-time evaluation of model precision, return on investment, and potential biases, irrespective of the hosting environment.
Open Ecosystem
Platform Integrations: Synchronize your data storage, ML interfaces, workflow utilities, BI tools, and essential business apps.
Deployment Infrastructure: Flexibility in DataRobot deployment – be it managed SaaS, private, or public cloud.
Add-on products
No Code Application Builder: A drag-and-drop interface that allows users to build custom applications without requiring any coding skills.
Automated Time Series: A feature that allows users to build accurate time series models quickly and easily.
DataRobot University: A training program that offers courses and certifications in AI and machine learning.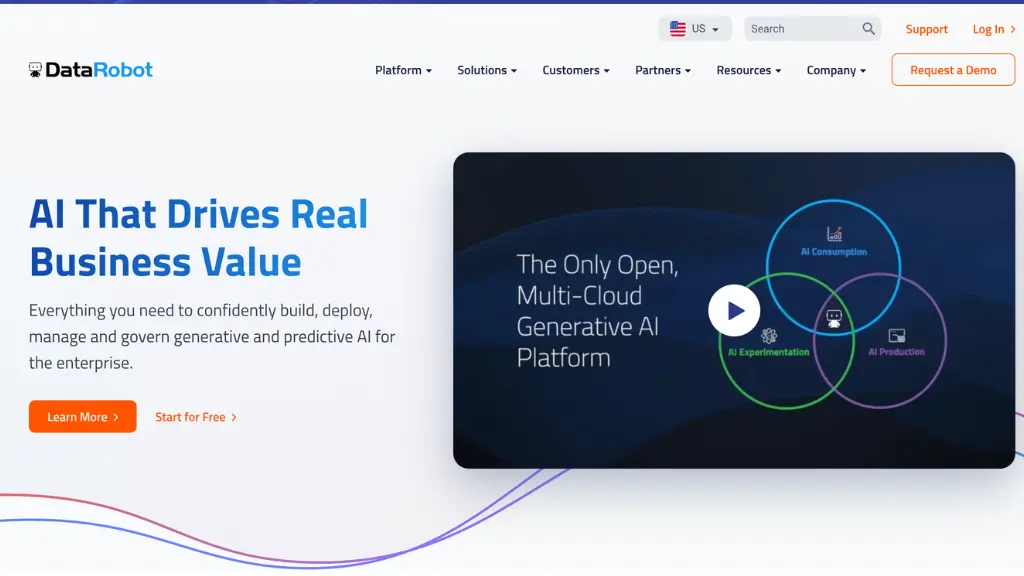 Competitors
DataRobot's main competitors in the AI platform market include:
Pros and Cons of DataRobot
Pros
1. Robust Tools & Functionality:
ML engine optimizes and identifies data patterns, reducing time and effort for predictive modeling.
Efficient feedback loop between data preparation and model building.
Unique refinement techniques for custom vector generation.
Optimized AutoML to identify the best ML model for datasets.
2. Interface & Usability:
User-friendly interface with easy data visualization and version control.
Good initial design for beginners; well-considered design and comprehension.
GUI is very readable and intuitive.
3. Product & Platform Enhancement:
Continuous investments in the platform, such as the inclusion of Visual AI.
Quick and high-quality customer support.
Excellent strategic partnerships and hands-on support.
4. Data Handling & Analysis:
Effective data handling of structured and unstructured data.
AI-assisted data examination provides accurate reports.
Easy adjustments to datasets within the application.
5. Education & Documentation:
Abundant supported documentation and clear understanding of the product.
Platform promotes quick learning and offers intuitive guidance.
---
Cons
1. Usability & Complexity:
Complex for initial users; significant time and resources required for deployment.
Limited clarity on how models deliver outputs; tools for deciphering results are not very user-friendly.
The software can be challenging for new users.
2. Features & Customization:
Lacks updates and could support better predictive algorithms.
Encourages quantity over quality in model creation.
Could provide better insights into the usefulness and need for a product.
Lacks full flexibility for manual model tweaks by experienced data scientists.
3. Costs & Expenses:
The platform is expensive and can pose challenges for companies on tight budgets.
Concerns about roadmap visibility and understanding release cycles in advance.
4. Integration & Connectivity:
Difficulties connecting with other tools, such as Alteryx.
Limited pre-canned solutions for specific sectors.
5. Training & Learning Curve:
Steep learning curve for newcomers to the platform.
More precise learning pathways desired to assist those new to data science.