Scale AI is a fast-growing AI infrastructure startup that provides businesses and organizations with the tools they need to build and deploy machine learning models. Let's explore Scale AI in detail.
Background Story
Scale AI was founded in 2016 by Alexandr Wang, a former machine learning engineer at Quora. Wang recognized the need for a more efficient and accurate way to label data for machine learning models, and he founded Scale AI to address this need. The company quickly gained traction and received support from leading investors, including Y Combinator, Founders Fund, and Accel. Today, Scale AI is one of the fastest-growing AI infrastructure startups in the world, with a valuation of over $7 billion.
Target Customers
Scale AI targets businesses that require high-quality data labeling, management services and AI infrastructure to build and deploy machine learning AI/ML models. The company's services are particularly useful for businesses in the healthcare, finance, and retail industries, where accuracy and precision are critical. The company's customers include leading companies in the technology, automotive, and logistics industries, as well as government agencies.
Scale AI's customers include major companies such as Lyft, Airbnb, and OpenAI, as well as smaller startups and businesses. Scale AI targets businesses and organizations that require AI infrastructure to build and deploy machine learning models. Scale AI's products are designed to help these customers automate tasks, reduce costs, and improve efficiency.
Capital Raised and Estimated Revenue
As of August 2023, Scale AI has raised over $600 million in funding from investors, including Founders Fund, Index Ventures, Thrive Capital, Accel, and Coatue Management. The company's estimated revenue is not publicly disclosed. However, Scale AI's rapid growth and high valuation suggest that the company is generating significant revenue and is well-positioned for future success.
In 2021, Scale AI signed a $249 million contract with the US Department of Defense, which is a significant source of revenue for the company.
Products
Scale AI offers a suite of AI infrastructure products that are designed to help businesses build and deploy machine learning models. These products include:
Data labeling
Data management
Model training and deployment.
The company's flagship product is its data labeling platform, which uses a combination of human and machine intelligence to label data for machine learning models. Scale AI's data labeling platform is highly customizable and can be tailored to meet the specific needs of each customer.
In addition to its data labeling platform, Scale AI also offers a suite of other AI infrastructure products, including a machine learning operations platform and a computer vision platform. These products are designed to help businesses automate tasks, reduce costs, and improve efficiency.
Scale AI's products are highly accurate and efficient, which can help businesses save time and money when building machine learning models.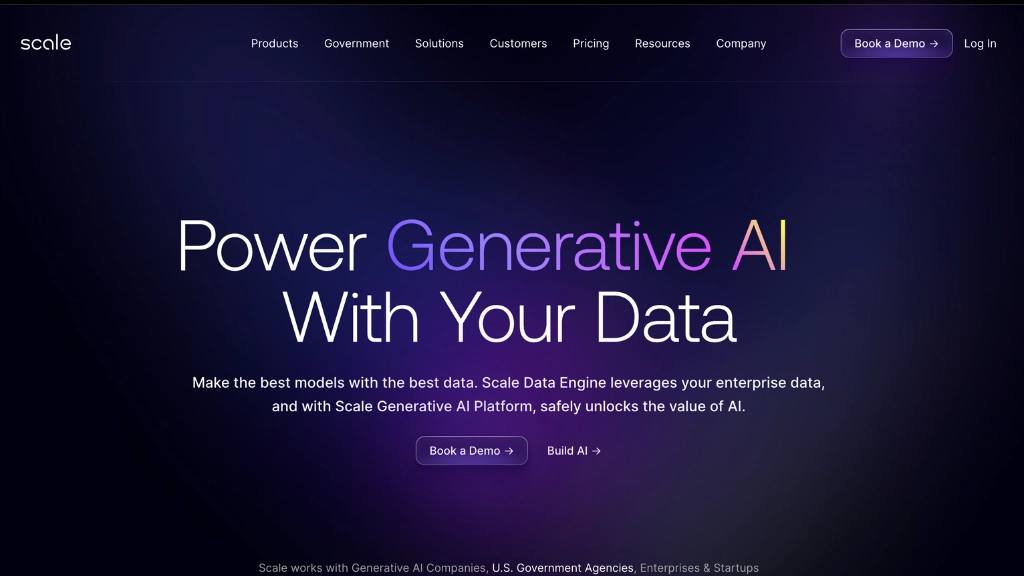 Competitors
Scale AI faces competition from a range of companies that offer similar data labeling and management services. Some of the company's main competitors include:
Pros and Cons of Scale AI
Pros
Efficiency and Speed: Several users mentioned the efficiency and speed of Scale Rapid in delivering quality results.
Quality of Data Labeling: Users found the quality of data labeling, especially for images, videos, and multimedia documents, to be very good.
Ease of Use: Multiple reviews pointed out the ease of use, mentioning how the program's features are simple to operate, even for complex tasks.
Support for Various Formats: The program supports data from various formats like CSV, text files, and cloud storage.
Real-time Feedback: The platform provides real-time feedback on labeling instructions, which adds to its user-friendly nature.
Pay-as-you-go Option: This financial flexibility was highlighted as a significant advantage by several users.
Useful for Large Datasets: Multiple users found it particularly useful for large datasets.
Setup: Some reviewers noted that the setup is straightforward and quick.
Cons
User Interface (UI): Multiple users believe there is room for improvement in the UI, suggesting it could be more interactive and user-friendly.
Pricing: Some users find the pricing structure to be complicated, and several mentioned that it's among the more expensive options in the market.
Mobile Integration: There's a call for improvements in mobile integrations so that users can enjoy the program's tools on various mobile devices.
Limitations: A few users mentioned that the tool might not provide the most efficient and accurate output for all types of projects.
Innovative Features: Some users expressed a desire for more innovative features in future updates.