V7 Labs is a technology company that is revolutionizing the way data is labeled and categorized for artificial intelligence (AI) training models. Let's See all the details about this company.
Background Story
V7 Labs is a Stockholm-based startup that specializes in AI data management. The company was founded in 2018 by Lorenzo Rizzoli, Simon Edwardsson and a team of experienced entrepreneurs and engineers who recognized the need for a more efficient way to label and categorize data for artificial intelligence (AI) training models. The founders of V7 Labs have a strong background in computer vision, machine learning, and software engineering. Rizzoli previously worked at Google, while Edwardsson was a co-founder of Imagimob, a company that develops AI solutions for mobile devices. V7 Labs has a team of over 20 employees and has received funding from several prominent investors.
Target Customers
V7 Labs' primary target customers are businesses that use AI to develop products and services. The company's platform is particularly useful for companies that work with computer vision, such as those in the medical and scientific fields. V7 Labs caters to a wide range of industries, including:
Agriculture
Automotive
Construction
Energy
Finance
Food and beverage
Healthcare
Life sciences
Logistics
Manufacturing
Retail
Software
Sports
Internet enterprises.
The company's solutions are tailored to meet the specific needs of each industry, and its platform is designed to handle large volumes of data with ease.V7 Labs has over 300 clients, including GE Healthcare, Paige AI, and Siemens, as well as other Fortune 500 companies and privately held businesses.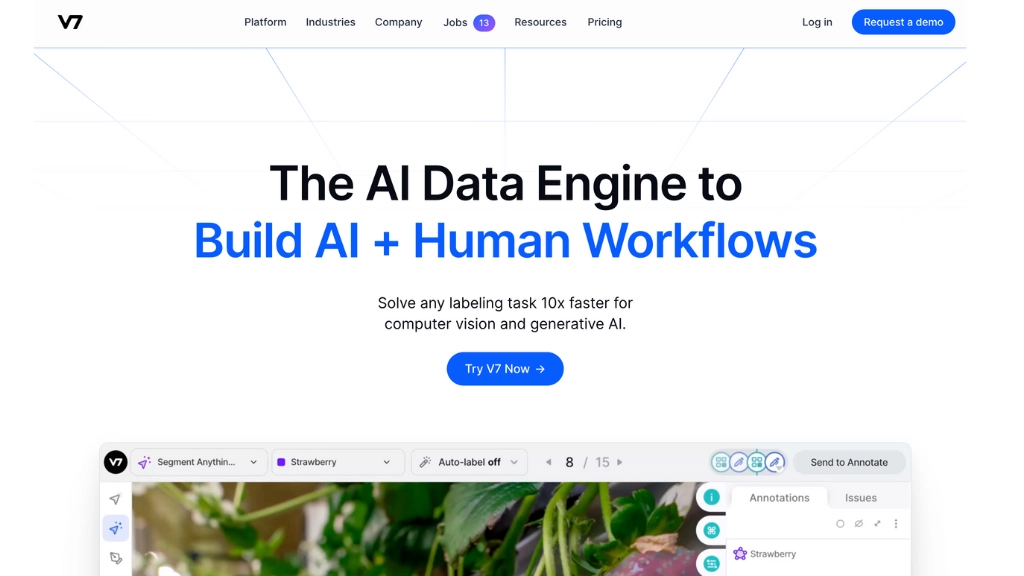 Capital Raised and Estimated Revenue
V7 Labs recently raised $3 million in a funding round led by Radical Ventures and Temasek, with participation from Air Street Capital, Amadeus Capital Partners, and Partech. V7 Labs has seen strong demand for its services and has raised $33 million in funding to date.
The company's estimated revenue is not publicly available, but it has been growing rapidly since its inception. V7 Labs has attracted investment from some of the world's leading venture capital firms, including Gradient Ventures, Lux Capital, and M12.
Labelbox vs Roboflow: A Comparative Study of AI Training Platform
Products and Services
At the heart of V7 Labs is its robust platform, which is designed to cater to various needs.
The platform comprises functionalities like image annotation, auto annotation, and video annotation for detailed visual data labeling.
For those dealing with voluminous data sets, dataset management ensures seamless handling.
V7 Labs has expanded its spectrum to cater to document processing and model management.
Its workflows feature streamlines processes, and it also offers labeling services to assist customers further.
V7 Labs' flagship product is its AI Data Engine, which automates the process of labeling and categorizing data for AI models.
The platform uses general-purpose AI and proprietary algorithms to segment and label images, reducing the amount of time and resources required for data management.
V7 Labs claims that its platform can learn from just 100 human-annotated examples, making it highly efficient.
In addition to its AI Data Engine, V7 Labs offers consulting services to help businesses develop and implement AI solutions.
The company's team of experts can provide guidance on everything from data management to model training and deployment.
Competitors of V7 Labs
V7 Labs' main competitors are other companies that offer AI data management solutions, such as:
However, V7 Labs differentiates itself by focusing on automation and efficiency, which it claims can save businesses up to 80% of their engineering team's time.
Pros and Cons
Pros
Advanced Data Labelling: V7 Labs has one of the most advanced functionalities for data labeling.
Intuitive UI: The User Interface is designed in a way that is exciting and intuitive for all users, with clear labeling of features.
Auto-Annotation: It has a user-friendly data annotation feature with auto-annotation capabilities. This allows for labeling even complex datasets swiftly and accurately.
Specialized Tools: The polygon tool, image manipulation options, copy annotations feature, model-assisted polygon annotation, subtract and merge tools make data annotation efficient and precise.
Time-Efficient: Multiple reviews highlighted the platform's ability to help users annotate datasets swiftly and save time.
User-Friendly Platform: Many reviewers praised its easy-to-use interface, straightforward navigation, and the clarity of tool symbols.
Supports Teamwork: V7 Labs enables users to manage all teamwork in one place.
Customer Support: V7 Labs provides strong customer support that actively listens to user feedback.
QA Workflow: The ability to create different Quality Assurance workflows ensures high-quality results.
Education and Training: They have the V7 Academy, which provides valuable resources.
Fair Pricing: Pricing is perceived as fair for the functionality provided.
Cons
Document Filtering: There are challenges when it comes to finding or filtering documents from the mass data, particularly when there are many files. This can make sorting or filtering less accurate.
Export Options: Some users desire more export options for their datasets to support a wider range of formats.
Platform Lag: A few users have mentioned that V7 can lag, particularly when working with large datasets or during platform updates.
Dataset Hosting: Users would prefer if datasets could be hosted directly in platforms like the colab notebook.
Feature Requests: Users have provided feedback on features they would like added or improved, such as an image searching pane and the ability to use lines in the consensus stage.