Kili is a pioneering platform focused on empowering users to control and monetize their personal data. Continue reading this post to learn more about their groundbreaking solutions.
Background Story
Kili Technology is an AI company that was founded in 2018 by Edouard d'Archimbaud and François-Xavier Leduc. Edouard d'Archimbaud, the co-founder and CTO, had previously worked at BNP Paribas where he built one of the most advanced AI Labs in Europe from scratch. François-Xavier Leduc, the co-founder and CEO, had experience in building companies around powerful insights. Together, they founded Kili Technology to ensure that data was no longer a barrier to good AI.
Target Customers
Kili Technology's target customers are businesses that want to build trustworthy AI with high-quality data. The company's platform has been trusted by some of the world's best companies, including L'Oreal, Renault, and Airbus. Kili Technology's customers come from a variety of industries, including healthcare, finance, and retail.
Featured Customers
Kili Technology has worked with a number of featured customers, including L'Oreal, Renault, and Airbus. L'Oreal used Kili Technology's platform to improve the accuracy of its facial recognition technology. Renault used the platform to improve the accuracy of its autonomous driving technology. Airbus used the platform to improve the accuracy of its predictive maintenance technology.
What is Kaggle? Shining Light on its Features, Competitors, Pros, Cons and More
Funding and Capital Raised
Kili Technology has raised over $30 million in funding from investors such as Serena, Headline, and Balderton. In January 2021, the company raised €5.7 million in an early VC round from investors such as Headline, Serena, Nicolas Dessaigne, Olivier Pomel, Financière Saint James, and Stanislas de Bentzmann.
Estimated Revenue
According to Dealroom.co estimates from July 2021, Kili Technology's revenues for 2021 are less than €1 million, but are expected to grow to €1.8 million in 2022 and 2023. The company's EBITDA and profit margins are currently negative, but are expected to improve as the company grows.
Products and Services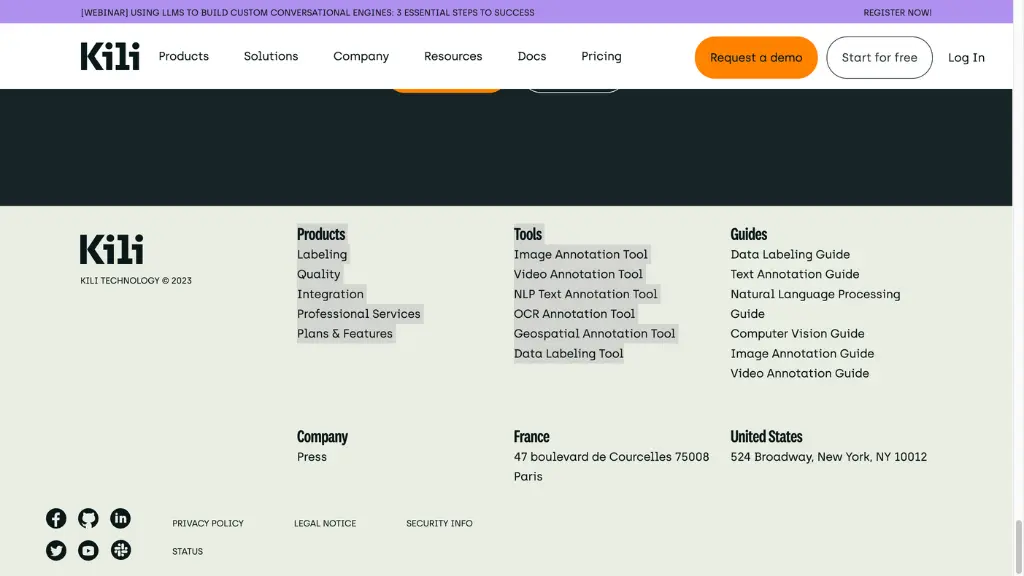 Labeling
Quality
Integration
Tools
Image Annotation Tool
Video Annotation Tool
NLP Text Annotation Tool
OCR Annotation Tool
Geospatial Annotation Tool
Data Labeling Tool
Competitors
Kili Technology's competitors include other AI companies that offer similar products and services, such as:
Pros and Cons of Kili
Pros
Versatility: Can be used for a wide range of labeling use cases including computer vision and NLP.
Stability: Essential for handling high volumes of data and meeting tight deadlines.
Integration: Easily integrates with other workforce management tools via the SSO feature.
Customizable Workflow: Allows for step-by-step implementation of labeling projects tailored to individual needs.
Analytics: Provides accurate metrics and figures, especially crucial for large teams.
Quality Monitoring: Ensures labeled data is accurate and reliable.
Collaboration: Features that allow team members to work together efficiently.
User-Friendly Interface: Intuitive and easy to understand, making the labeling process seamless.
Cons
Limited Video Annotations: Currently only supports bounding boxes for video annotations.
Lacks Advanced Analytics: Users have trouble monitoring productivity and identifying areas for acceleration.
OCR Integration: For text annotation projects in images, users need to upload OCR data separately.
Format Restrictions: Doesn't accept Excel and Word documents natively, requiring transformation before import.
Limited Auto Labeling Features: Currently, auto labeling is limited to a few functionalities.
Complex API: Difficult to use for individuals without technical knowledge.